GODDESS GIRLS: TRUE BEAUTY GIVING BACK
Have you ever wanted to pay it forward but didn't know how? If you're trying to break into t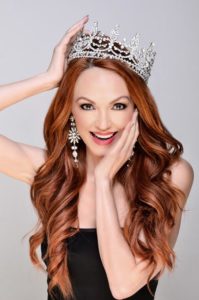 he glamorous world of talent — whether you're an actress, singer, model, pageant contestant or digital influencer, use your true beauty as a force for good through Goddess Girl! Goddess Girl was founded by Constantina Christos for those talented young women with beauty that radiates outward — women who have passions and creative ideas, who yearn to enact hands-on, positive change by helping to create a beautiful world for all by leaving their mark. A sounding board for True Beauty Giving Back, Goddess Girl supports numerous charitable endeavors, like the Charitable Child Fund while building tremendous awareness to helping those in need on a global scale. Each season, by a popular vote, one member of The Goddess Girls will grace our website and digital channels, as well as have an opportunity to appear in top-tier local or national fashion & beauty magazine like Vogue, Cosmopolitan, Glamour & Allure. The annual Goddess Girl winner will receive a full page spread in a high-end luxury lifestyle publication to promote their talent and cause as the Goddess Girl. The Goddess Girls presents a chance for talented young women to obtain an official Goddess Girl membership, contribute to, and garner recognition for the cause of their choice while amplifying their own online presence and star power. Our mission is to bridge each individual Goddess Girl's talent with an audience exclusively under the theme of True Beauty Giving Back. It is our goal to shine light onto true Goddess Girls that make a difference!  
The NEXT Goddess Girl Winner will be featured WITH A FULL PAGE SPREAD in West Hollywood Lifestyle Magazine…
Here's Your Chance to Be Our Next Goddess Girl... (Read before entering)
Eligibility. This Promotion is a free contest and is open to legal residents of the 50 United States, Washington, D.C. and Canada (excluding Puerto Rico and Quebec) 21 years of age or older. This Promotion is void where prohibited. Employees and members of the immediate families of THE GODDESS GIRL ("GG"), its, affiliates, subsidiaries, advertising and promotion agencies are not eligible to play. All federal, state and local laws and regulations apply. Federal, state, local, and other taxes if applicable on any potential awards are the sole responsibility of the applicable winner.
Goddess Girl Selection. Representatives of GG shall select the Goddess Girl by June 1, 2017, among all eligible e-mail entries and shall notify the winner by email by June 1, 2017. The winner will have until June 10, 2017, to accept the designation and execute agreements relating to this promotion and the designation as the 2017 Goddess Girl, including an affidavit of eligibility and a liability/publicity release, as GG provides. If such winner does not accept the designation, GG's representatives shall select an alternative Goddess Girl within thirty (30) days. The name of the winner will be made available on the Goddess Girl website, at http://www.thegoddessgirl.com, within fifteen (15) days following acceptance by such winner.
Award. The winning and accepting Goddess Girl shall be entitled to a full page ad in a top fashion or lifestyle magazine. This award is non-transferable and cannot be substituted by the winner. Taxes on potential prizes associated with the acceptance of the award are the sole responsibility of the winner. Not included are any additional services, costs, or expenses, including transportation, food, refreshments, assessments, telephone charges, purchases, photography-related costs, and incidentals, all of which are the sole responsibility of the winner.
Photo Submissions. By submitting any photo or information to GG, you hereby grant to GG and its affiliates, subsidiaries, licensees and assigns, an irrevocable, perpetual and royalty-free right to use, reproduce, edit, display, transmit, prepare derivative works of, modify, publish and otherwise make use of the submitted photo or other information in any and all media, whether now known or hereinafter created, throughout the world and for any purpose. In addition to other things, the rights granted to GG include but are not limited to the right to resize, crop, censor, compress, edit, feature, caption, affix logos to, and to otherwise alter or make use of the submitted photo. By submitting any photo or information to GG, you hereby represent and warrant that the submitted photo or information does not and shall not infringe on any copyright, any rights of privacy or publicity of any person, or any other right of any third party, and you have the right to grant any and all rights and licenses granted to GG herein, including but not limited to all necessary rights under copyright, free and clear of any claims or encumbrances. You acknowledge and agree that GG shall have no obligation to post, display or otherwise make publicly available any photo or information submitted by you, and may, in its sole and unfettered discretion, remove, edit, modify or delete any photo or information that you submit to GG. By submitting any photo or information to GG, you hereby waive any privacy expectations that you may have with respect to any such photo or information submitted by you to GG. You hereby agree to hold GG and its affiliates, subsidiaries, licensees sponsors and assigns harmless from and against, and hereby waive any right to pursue, any claims of any nature arising in connection with the inclusion in, publication via or display on any GG site, or any other use authorized under these the terms of these rules, of any photo or information submitted to GG by you. Photos or information submitted by you shall be the property of GG, and GG shall have no obligation to preserve, return or otherwise make available to you or others any photos or information so submitted.
Limitation of Liability. IN NO EVENT WILL GG, ITS PARENTS, SUBSIDIARIES, AFFILIATES, ADVERTISING SPONSORS, PRIZING SPONSORS, DIVISIONS, DISTRIBUTORS, SUPPLIERS, PRINTERS, DISTRIBUTORS AND ADVERTISING, PROMOTIONAL AND JUDGING AGENCIES, THEIR PARENTS, AFFILIATES, SUBSIDIARIES AND RELATED COMPANIES, THEIR ADVERTISING OR PROMOTION AGENCIES OR THEIR RESPECTIVE OFFICERS, DIRECTORS, EMPLOYEES, REPRESENTATIVES AND AGENTS, BE RESPONSIBLE OR LIABLE FOR ANY DAMAGES OR LOSSES OF ANY KIND, INCLUDING DIRECT, INDIRECT, INCIDENTAL, CONSEQUENTIAL OR PUNITIVE DAMAGES ARISING OUT OF YOUR PARTICIPATION IN THIS PROMOTION. SOME JURISDICTIONS MAY NOT ALLOW THE LIMITATIONS OR EXCLUSION OF LIABILITY FOR INCIDENTAL OR CONSEQUENTIAL DAMAGES OR EXCLUSION OF IMPLIED WARRANTIES SO SOME OF THE ABOVE LIMITATIONS OR EXCLUSIONS MAY NOT APPLY TO YOU. CHECK YOUR LOCAL LAWS FOR ANY RESTRICTIONS OR LIMITATIONS REGARDING THESE LIMITATIONS OR EXCLUSIONS. Disclaimer of Warranties. THE PROMOTION IS PROVIDED AS IS WITHOUT WARRANTY OF ANY KIND, EITHER EXPRESS OR IMPLIED, INCLUDING BUT NOT LIMITED TO, THE IMPLIED WARRANTIES OF MERCHANTABILITY, FITNESS FOR A PARTICULAR PURPOSE OR NON-INFRINGEMENT.
Arbitration and Governing Law. Disputes: Except where prohibited, as a condition of participating in this Promotion each entrant agrees that any and all disputes that cannot be resolved between the parties, claims and causes of action arising out of or connected with this Promotion, or any prizes awarded, or the determination of winners shall be resolved individually, without resort to any form of class action exclusively by arbitration pursuant to the commercial arbitration rules of the American Arbitration Association, then effective. Further, in any such dispute, under no circumstances will entrant be permitted to obtain awards for, and hereby waives all rights to claim punitive, incidental or consequential damages, or any other damages, including attorneys' fees, other than entrant's actual out-of-pocket expenses (e.g., costs associated with entering this Promotion), and entrant further waives all rights to have damages multiplied or increased. The parties waive all rights to trial by jury in any action or proceeding instituted in connection with these Official Rules and/or this Promotion. Governing Law and Jurisdiction: This Promotion is governed by US law and is subject to all applicable federal, state and local laws and regulations. Void where prohibited by law. All issues and questions concerning the construction, validity, interpretation and enforceability of these Official Rules, or the rights and obligations of entrant and GG in connection with this Promotion, shall be governed by, and construed in accordance with, the laws of the State of California, U.S.A., without giving effect to the conflict of laws rules thereof, and any matters or proceedings which are not subject to arbitration as set forth in these Official Rules and/or for entering any judgment on an arbitration award, shall take place in the State of California, in the City of Los Angeles.
General Conditions. By entering, each entrant accepts and agrees to be bound by these rules and by the decision of the judges, which shall be final and binding in all respects. GG reserves the right to substitute a prize for one of equal or greater value in the event that an advertised prize is unavailable.
Prize Restrictions. The winner must be available to travel on dates specified by GG. Travel arrangements must be made through GG.
Release and Indemnity. Each entrant in the Promotion, including, without limitation, each prize winner, hereby releases and agrees to hold harmless GG and its parents, affiliates, subsidiaries, advertising and promotion agencies and their respective directors, officers, employees, representatives and agents from any and all liability for any injuries, loss or damage of any kind to person, including death, and property, arising in whole or in part, directly or indirectly, from acceptance, possession, use or misuse of the prize, participation in this Promotion and participation in any activity related to this Promotion. GG, in its sole discretion, may disqualify any entrant from participating in the Promotion, refuse to award prizes, and require the return of any prizes, if entrant engages in any conduct that GG deems to be improper, unfair or otherwise adverse to the operation of the Promotion or detrimental to other entrants. GG reserves the right to modify these rules for clarification purposes without materially affecting the terms and conditions of the Promotion. This contest may not be used for any form of gambling. CAUTION: ANY ATTEMPT BY A CONTESTANT TO DELIBERATELY DAMAGE ANY WEB SITE OR UNDERMINE THE LEGITIMATE OPERATION OF THE PROMOTION IS A VIOLATION OF CRIMINAL AND CIVIL LAWS AND SHOULD SUCH AN ATTEMPT BE MADE, GG RESERVES THE RIGHT TO SEEK DAMAGES FROM ANY SUCH CONTESTANT TO THE FULLEST EXTENT PERMITTED BY LAW. Any entry that is incomplete, late, does not include a required information will be disqualified. In the event that the Promotion is challenged by any legal or regulatory authority, GG reserves the right to discontinue or modify the Promotion, or to disqualify participants residing in the affected geographic areas. In such event, GG shall have no liability to any entrants who are disqualified due to such an action.
Providing a website featuring acts of service, charity, or philanthropic endeavors performed by celebrities or those in the entertainment industry